Cambodia among world leaders in developing digital currency
National Bank of Cambodia moving towards implementing pilot domestic project
22 Jun 2020
|
Peter Starr
THE National Bank of Cambodia is among three central banks leading the world in retail central bank digital currency (CBDC) development, according to a new book. Launched June 16 by the Asian Development Bank Institute in Tokyo, the book says cash faces "growing competition" from e-money and crypto assets issued by private firms.
However, "crypto assets including global stable coins like Facebook's Libra, if used widely by the general public, might erode the effectiveness of monetary policy," the book warns.
Widespread public use of crypto assets might also promote "substantial depreciation" of currencies in some developing economies, "possibly leading to foreign debt crises". "There is also a risk of promoting illegal and terrorist activities and a risk of violating privacy due to inadequate consumer protection rules."
Partly reflecting these concerns — and with the aim of reducing the cost of handling cash — some central banks have examined or conducted pilot CBDC projects. These include central banks in the euro zone as well as Cambodia, Canada, the People's Republic of China (PRC), Hong Kong, Japan, Singapore and Thailand.
"Central banks in Cambodia, the PRC, and Sweden are taking the lead in exploring retail CBDC projects aiming at actual implementation," the book finds. At the same time, central banks in the euro zone and other economies such as Canada, Japan, Singapore and Thailand are focusing on wholesale CBDC systems.
In Cambodia, the book notes that the National Bank launched a pilot project for its new Bakong retail payment system using mobile phones in July last year. Under the system, its digital currency is distributed to the public as tokens through the banking system. CBDC purchases can be made by exchanging the equivalent amount withdrawn from bank accounts. Goods and services are paid for in a retail shop by scanning a harmonized QR code — similar to the system already in use in Singapore — and inputting the payment amount. The book says Bakong uses technology mainly developed by Soramitsu, a Japanese company delivering blockchain solutions for firms, universities and governments.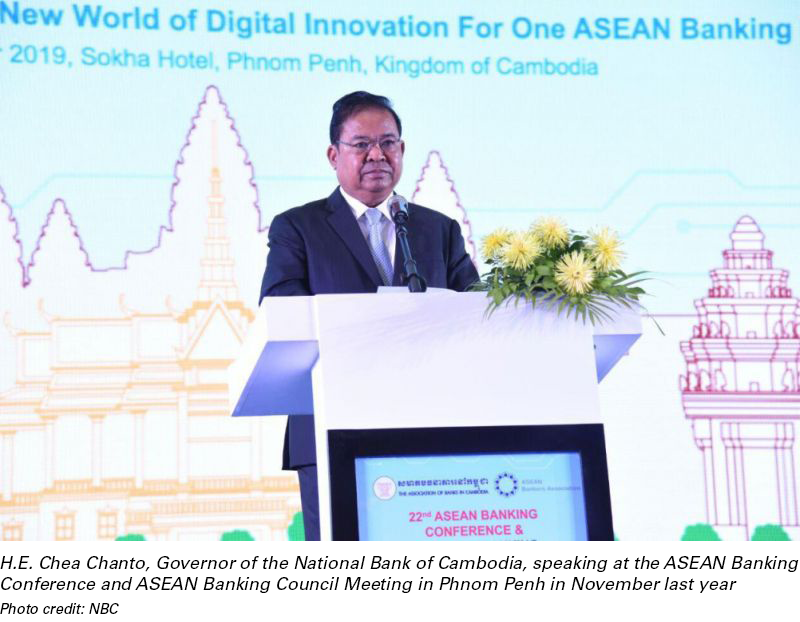 A former member of the Bank of Japan policy board, Sayuri Shirai, who authored the book, says it's "not clear whether the retail CBDC could promote a shift from the dollar to the riel." But the digital currency "is expected to reduce domestic remittance costs substantially," she says.
Cambodia is meanwhile expanding the use of QR payments technology with neighboring countries. In Bangkok in February, National Bank of Cambodia governor Chea Chanto and Bank of Thailand governor Veerathai Santiprabhob launched a QR payment link between the two countries. The Cambodian central bank said the system "aims to promote the usage of local currencies and financial inclusion, facilitate retail payment activities, and boost tourism in both countries."
The central bank also signed a memorandum of understanding with leading Malaysian bank Maybank in October last year. The National Bank of Cambodia said it would work with Maybank "to explore the possibility of enabling real-time transfers, payments, and cross-border remittance of funds between Cambodia and Malaysia" through the Bakong system and the Maybank2U digital platform. "Collaboration will substantially contribute to the promotion of trade activities and financial inclusion in both countries," says Chea Serey, assistant governor at the Cambodian central bank.
Four days later, the central bank announced a soft launch of its QR system with Acleda Bank, Cambodia Post Bank, Canadia Bank and Prasac Microfinance Deposit-Taking Institution along with South Korea's Kookmin Bank and the Korean-controlled Phnom Penh Commercial Bank.
Shirai, a Keio University professor who recently completed her tenure as an ADB Institute visiting scholar, says retail CBDCs "might promote the attractiveness of central bank money."
The Japanese economist reckons they could provide depositors with a "new, safer, and more liquid asset" and enhance the effectiveness of monetary policy. They could also "give central banks even greater capacity to monitor payment and settlement transactions."
However, "it should be debated further as to whether this would put central banks in direct competition with private banks for retail deposits." Such competition could undermine the retail base of private banks and "incur new types of risks to central banks," she warns.
Christina Segal-Knowles, executive director of the Financial Market Infrastructure Directorate at the Bank of England, expressed similar concerns last week. A central bank digital currency may have "significant implications for how our financial system works – in particular if households and businesses were to move their deposit balances from commercial banks to CBDC. "This could in turn affect how we implement monetary policy and support financial stability," she told a webinar organized by the London School of Economics and the UK-based Centre for Economic Policy Research. Segal-Knowles says the Bank of England was discussing an "appropriate" digital currency design and "an evaluation of whether the benefits of CBDC outweigh the risks."
In a statement released June 16 by the ADB Institute, Shirai said the Covid-19 crisis had "added another layer of complexity to central banking" in the areas of macroeconomic stability and financial technology. "In this environment, understanding available policy options is very important to effective central bank decision making," she says.
The institute says Shirai's book — Growing Central Bank Challenges in the World and Japan — offers "timely insights on how central banks are navigating the unsettled policy landscape and what the future may hold."
In her introduction to the book, Shirai recalls a Bank of Thailand announcement in April that people could "wash banknotes with mild detergent or soapy water" if they were worried about contamination from the virus that causes Covid-19. "The World Health Organization, the Bank of England, the European Central Bank, and other central banks emphasized that there is no scientific evidence about increased spreading of the coronavirus through the use of cash," she writes. "Whether the novel coronavirus pandemic will have a long-term impact on the general public's preference toward cashless payment tools without person-to-person contact is yet to be seen."